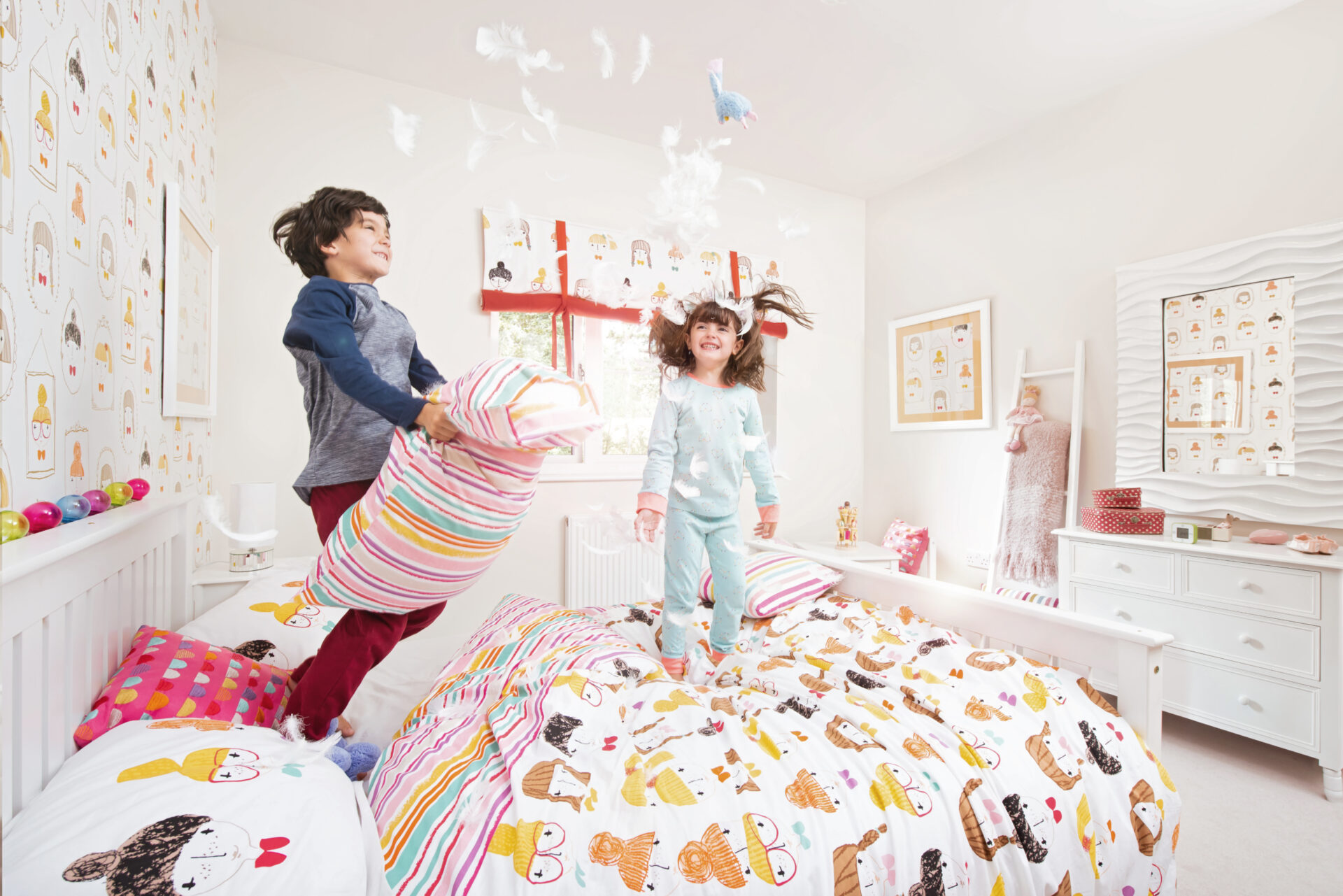 Children's bedroom at Sundew Place
Involve your children in all the fun decisions about their bedrooms to ensure they love everything about their room. At the same time, don't give in to every demand over colours. Blues, greens and yellows are best for promoting calm; so if your teenager has a passion for purple it might be best to say no!
Sticking to pale or neutral coloured walls is ideal for a child's bedroom. Remember this space may need to see your child through phases of new baby, to young child, to teenager. Rather than constantly redecorating, change the colour scheme with pictures, cushions, throws, items which can be easily swapped without too much expenditure and produce accents of what happens to be the current favourite colour.
Choose the essentials carefully. You don't want them to outgrow expensive pieces of furniture because they think they are too babyish. Choose a good bed, and look for effective storage solutions to pack away toys or clothes. In the case of older children, buy a good desk and a comfortable supportive chair for homework. Then go from there, enabling them to really make the space their own.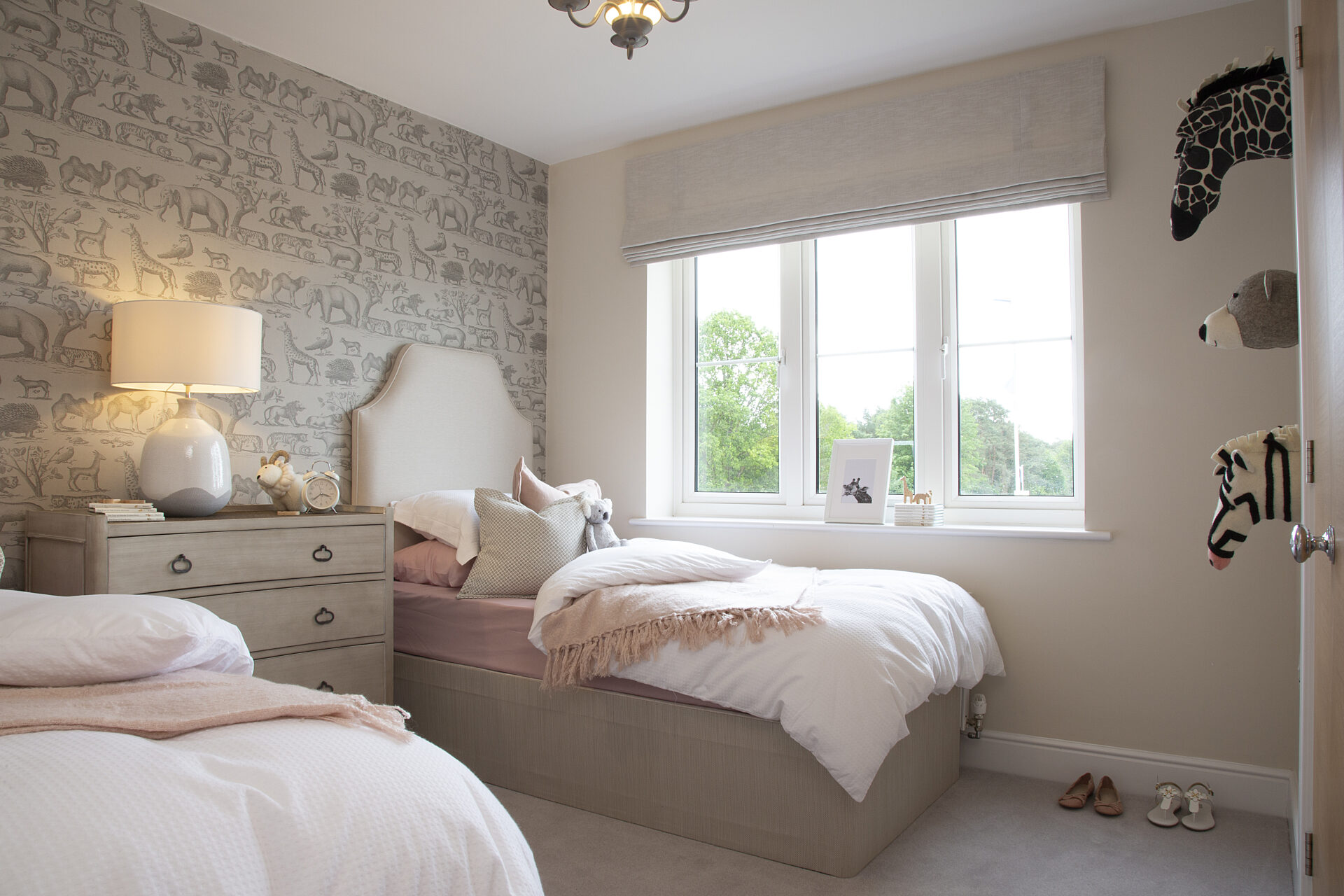 Children's bedroom at Heatherfields
Savvy space-saving solutions are key because children have a lot of bits and pieces whether that's books, toys, fluffy animals or treasured collections. A box with wheels can make it easier to tidy up the toys scattered around the room and can be repositioned easily. A high rise bed will use the height of the room effectively, with additional room underneath for storage solutions or a desk.
Flooring is important because children will often play on the floor of their bedroom with siblings and friends. If you opt for carpets, choose hardwearing but soft options, or cover wooden floors with a lovely rug for comfort and for bringing colour to the room.
Declutter. Start by designing the room so that it will work as a place where your child can play, work and rest. Use hooks, underbed storage, drawstring bags or baskets. It is important to work with them on this, so you get buy in from them too. Make it a habit to have a yearly big sort-out to see what they have outgrown and what can be passed down to another child or donated to charity.
Avoid over embellishing because most children would rather have their posters and photos on the wall; or their toys, games and mementos around them. Less is more and allowing children to be creative in their rooms (within reason!) can enable them to find out who they really are.
Add texture and colour like a gorgeous blanket on the bed or a rug on the floor, to soften heavier pieces such as a solid wooden dresser or desk. Nice bedding is more likely to make your child want to go to bed, and even to make their bed in the morning! Well-balanced layers, patterns and pops of their favourite colour can turn a child's bedroom into an interesting and enviable space.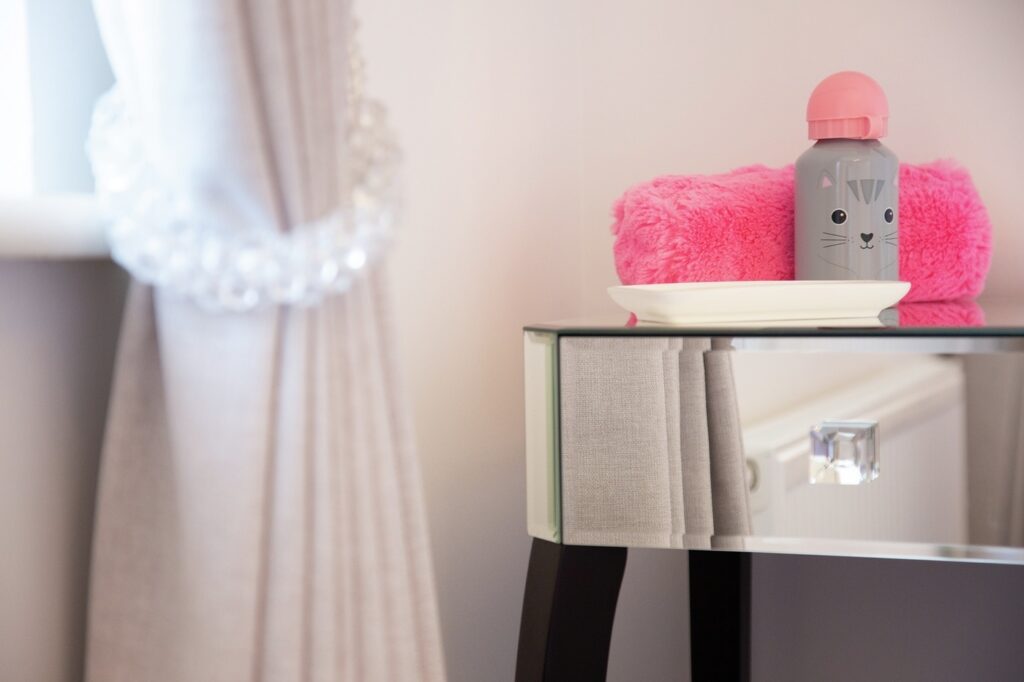 Children's bedroom at Cornelian Fields
The smallest rooms in the house are often allocated to the children so try stripes to give the impression of more space either on your walls, rugs or bedspread. Horizontal stripes make a narrow room feel wider.
Good natural light is key for a clear division between day and night (especially for teenagers) but choose good lighting for reading or doing schoolwork, and blackout curtains or blinds to ensure good sleep.
To find out more about our family-focused developments visit the new homes page or one of the below development pages:
Live within a thriving coastal community in Scarborough in our beautiful collection of 2, 3 and 4 bedroom houses. Just a handful of four bedroom homes remain on Phase 3 whilst the homes on Phase 4 have recently been released for sale.
Surrounded by nature these 3, 4 and 5 bedroom homes are fringed by fragrant pine woodland whilst also being within easy reach of the recently regenerated town centre of Bordon in Hampshire.