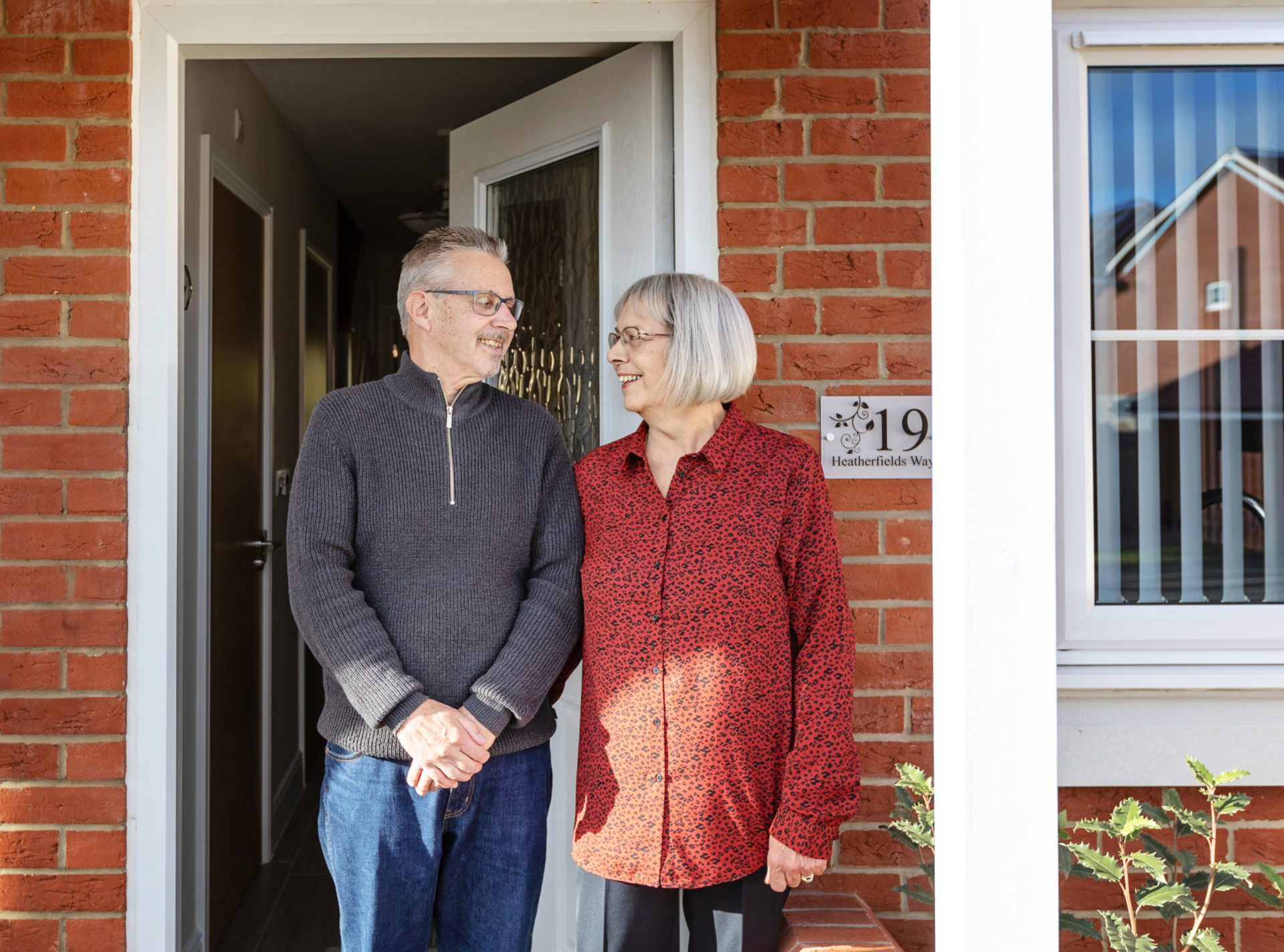 Roger and Peggy outside their new home
How did you come to move to Heatherfields?
We had a buyer for our house and were going to buy a bungalow but we discovered there was a lot of work to be done so we had to pull out. We spent another Saturday driving around Bordon and had nearly given up hope. We needed to tell our own buyer that there was a problem with the property we had hoped to buy and then we saw the signs for Heatherfields. Peggy was tired from the day and suggested she stay in the car but in the end we went in to the show home together and were told that there was one property that had just become available the day before, which was almost ready to move in to.
We walked into the house and were wowed. Peggy fell in love with it straight away! We were moving from a detached home, and this was a semi, but as soon as we saw it, we knew it was perfect for us. We were very decisive and said we wanted to sign on the dotted line there and then! Now here we are, sitting in our lovely new home which is filled with sunshine, looking out at the woods around us. We saw a woodpecker this morning who sometimes comes to visit. We love it here.
Why were you looking to move?
We were both born in the area but 22 years ago we moved to Amesbury in Wiltshire because it was a more affordable area. Then we went into lockdown and that changed everything. It was hard to visit our family who weren't just around the corner. Now we are in our new home, one of my sons live very nearby and Peggy's son lives at end of the road. We had been thinking about moving for a while, but the pandemic gave us the push we needed. I have eight grandchildren and seven are boys! My mum passed away two years ago, and I inherited some money which gave us the opportunity to come back to live in Bordon, to be closer to our families.
Did the pandemic affect your ability to move?
We sold our house fairly quickly so that was good. The solicitors were very busy and it did take a while to get everything sorted but it was all good in the end.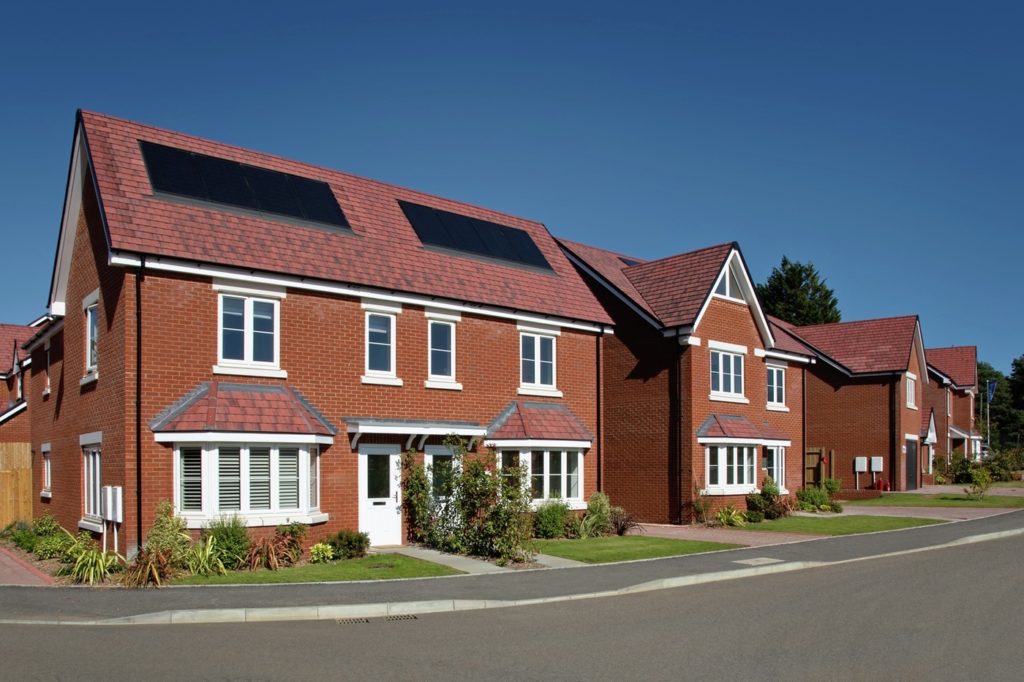 Homes at Heatherfields
What were you looking for in a new home?
We definitely wanted a garage so I can park my car in there. The garage we have now is huge. I don't need a shed because I can hang my garden tools on the wall and fit the car in easily! A two bedroom home would have been ok, but three bedrooms is even better. We weren't necessarily looking for a new build, but we also didn't want anything too old. We are so glad we didn't buy that bungalow. It is so nice to have everything new and Kebbell are quick to sort any problems that come up. I mentioned something about a problem with the door handle the other day, and the next day one of the team popped round and put on a new one just like that. From what we can see Kebbell take their time to get it just right. The quality is there. There is also a lot of space, the houses are not all crammed in.
What do you think are the best features of the house?
We can't believe the cupboard space! There are cupboards everywhere - under the stairs, on the landing, in the bedrooms. The doors are lovely, the floor tiles are beautiful, the patio, the kitchen, it's all lovely. We have windows either side of patio door which makes it all look more open. There is nothing we don't like. We had to get used to the new cooker and having an open kitchen/diner/living room, but everything is great. The insulation under the floor is fantastic with underfloor heating and the windows are well insulated too so you don't hear anything from outside.
Is there a sense of community?
There is a real sense of camaraderie when everyone is buying a property and you all move in around the same time. We have a WhatsApp group and held a lovely street party last year. We love talking to people and so occasionally when we have seen new buyers wandering around who are buying off plan we have offered to show them our house and they have been delighted to see how things look when you have moved in.
The Heatherfields show home living room
Have you enjoyed decorating the house?
Daido rails and artex ceilings are long gone! We like the neutral look and so are happy with the house as it is. We have wallpapered one wall panel in the lounge and behind the headboard which the show home inspired us to do and is fun because it looks 3D and everyone wants to touch it! The garden was a blank canvas and we have made a rockery garden now using rocks we collected ourselves from the local area.
Were you able to make any choices about the specifications in the property?
We didn't want to make any changes at all. We chose our carpet but everything else was exactly as we would have wanted it. That is what makes Kebbell different. Other house builders charge you for extras, but Kebbell homes already have the extras included!
Are you enjoying taking advantage of the areas of natural outstanding beauty around you?
The area is so lovely, we had a deer at the end of our garden recently. There are plenty of places you can go for a walk including Hogmore Inclosure, just over the road, but we especially love the woods around our home. There is a pond too. It is just a lovely area.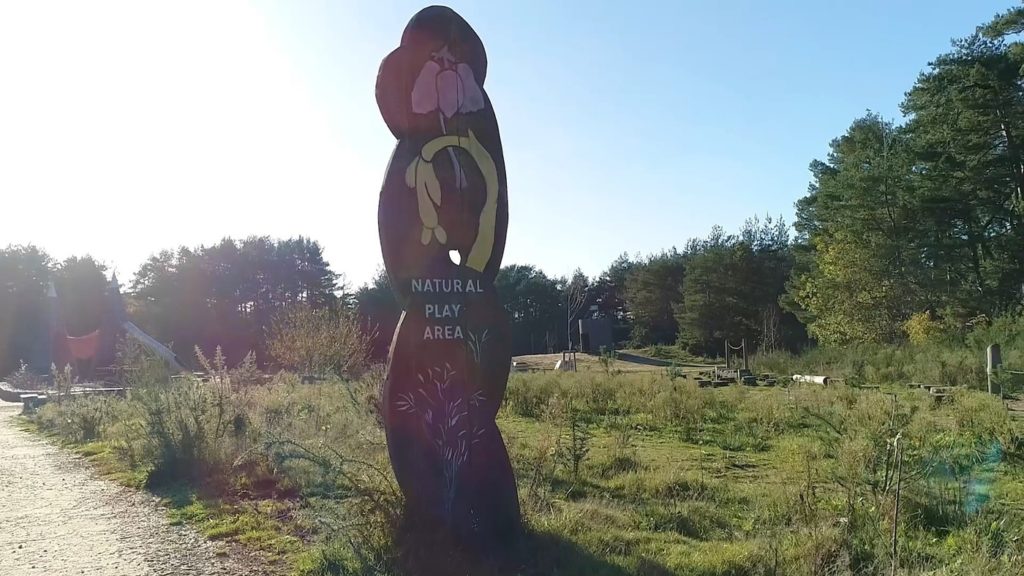 Hogmoor Inclosure
Heatherfields comprises a collection of 59 three to five bedroom homes set alongside a neighbouring woodland with its own wildlife habitat area and pond. The homes vary from 1292 sq. ft to 2094 sq. ft and all offer a multitude of rooms designed to flex to the needs of family life.
The last few homes on the development are now available for sale so why not find out if your dream home is waiting to be discovered?