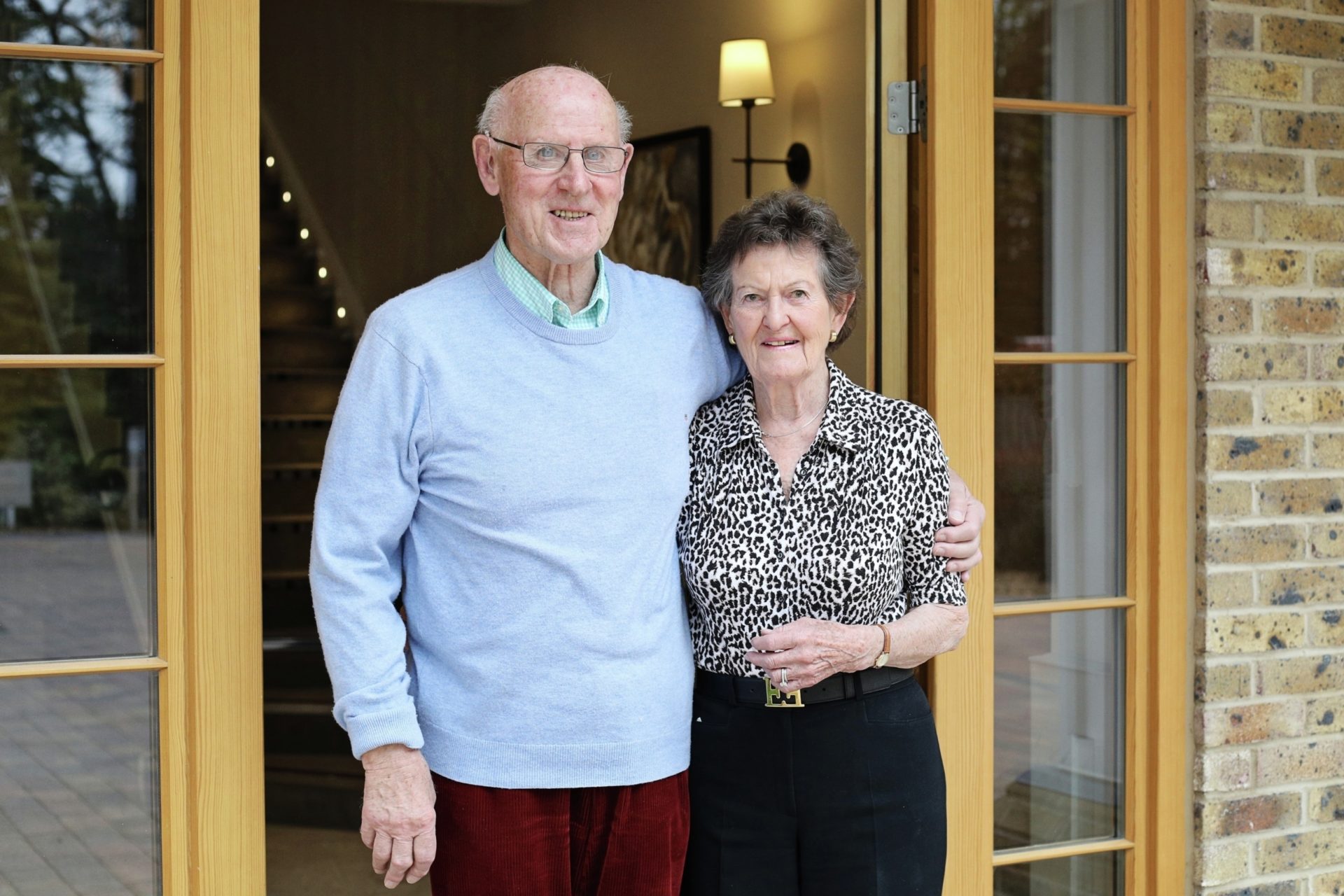 Brian and Sally outside of Wintersbrooke, Sunningdale.
Why were you looking to move and how was it moving in the pandemic?
I am 86 years old, and Sally is 84, and we were previously living in a townhouse in Virginia Water but the stairs in the house were making our family concerned for our safety. We had been trying to complete since last July but because of the pandemic and the volume of work conveyancing lawyers have, there were delays week after week. Christmas came and went but we were then able to move in at the end of January on a date that was good for the movers, as they were equally busy too.
Why did you choose to buy a new-build property?
We weren't actually deliberately set on a new house, but we talked to agents Knight Frank and they introduced us to Wintersbrooke. Essentially, we wanted a lovely ground floor apartment and access to a nice garden. We didn't look at a huge number of properties because when we saw Wintersbrooke, it ticked all the boxes. It was a case of walking into the apartment and just knowing immediately it was for us. The room sizes are pretty much the same size as our previous house, so all of our existing furniture fitted well which subconsciously was a big plus.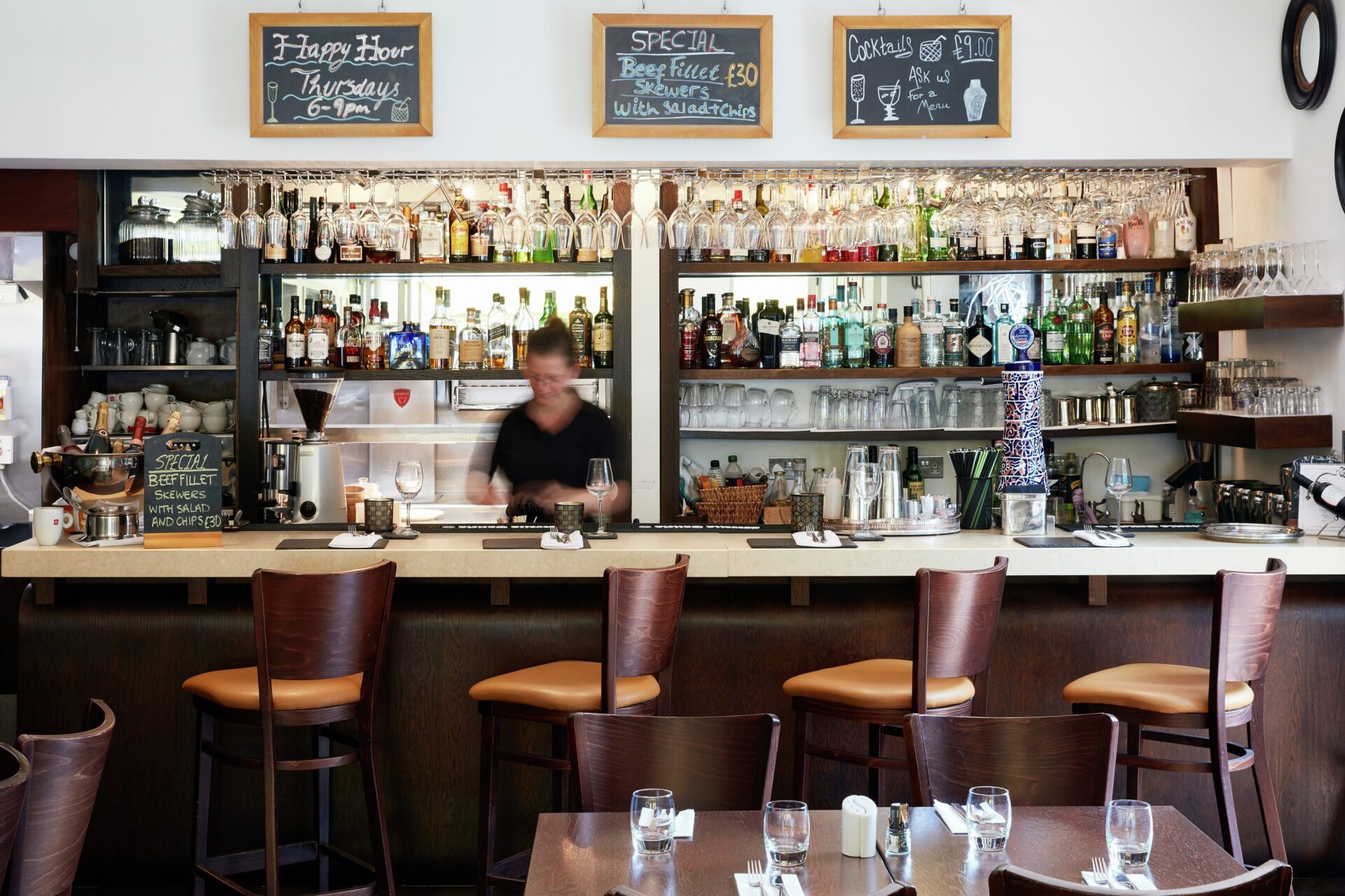 The Tablespoon in Sunningdale
Did you want to be in the area in particular?
We wanted to be in the Ascot/ Sunningdale area because we had previously lived there for 34 years and we loved it and wanted to be back in the area. As a member of the golf club, I am delighted to be back! It is also conveniently close to the shops, we have friends in the area and we have excellent access to the airport, motorways and London. Our two sons live in Chelsea and Primrose Hill which are less than an hour away. Sunningdale is like a large village with charming flower, wine and hardware shops, hairdressers, sporting facilities and cafes in the area, as well as of course Windsor Great Park. Location is everything.
Do you take advantage of the areas of natural outstanding beauty around you?
Yes we try to walk somewhere in Windsor Great Park every day when we can.

How was your experience when you were looking around Wintersbrooke?
One of astonishment actually. The property itself looks like a stunning, very large house - although it is actually six apartments - and fits in with the surrounding area very well, matching the other properties in the area. We saw it on a nice sunny day which also helps. We were immediately very impressed.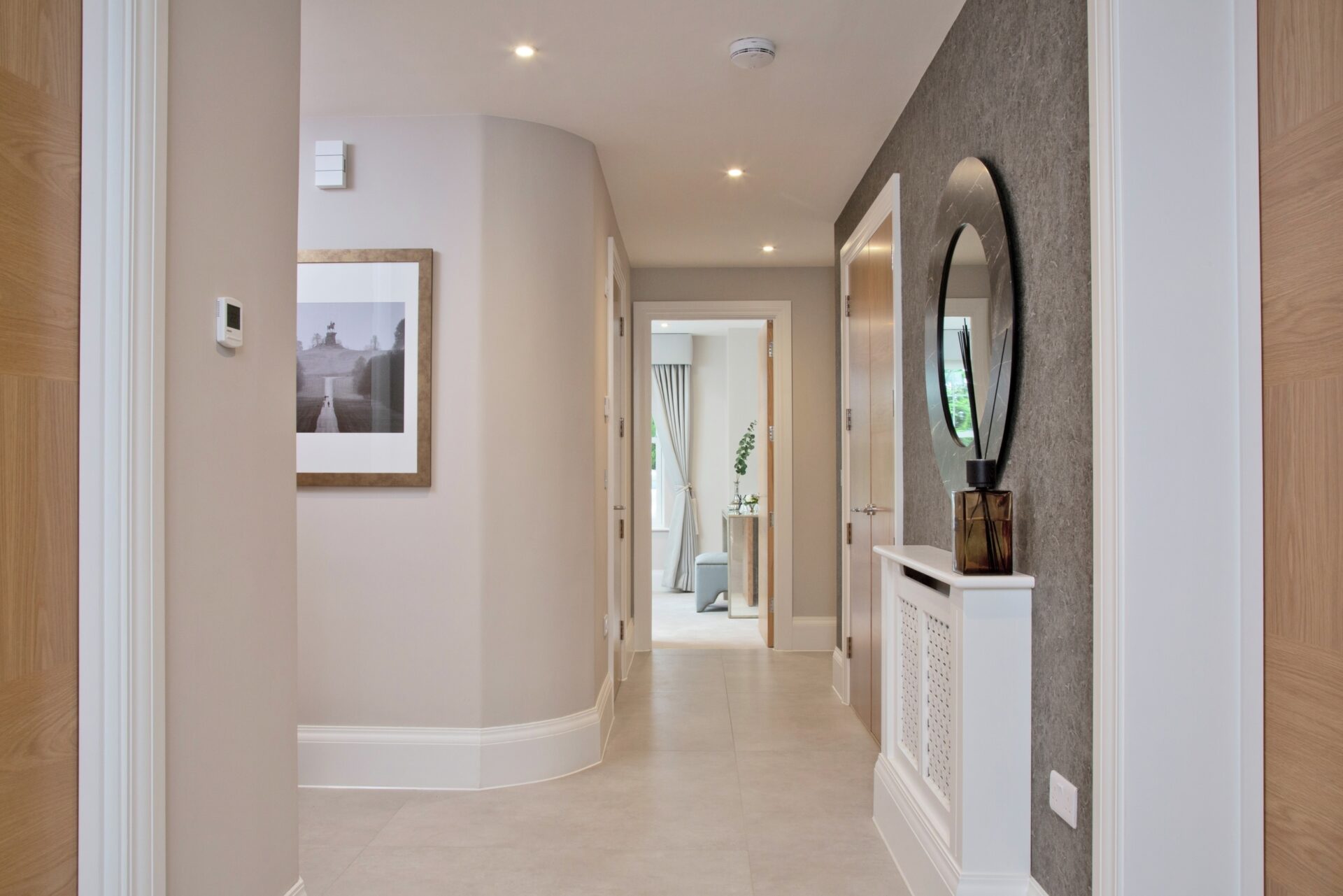 Wintersbrooke Hallway
What do you think are the best features of your property?
One of the attractions is the entrance hall – it pulls you in and tells you that the whole apartment will be one of quality. We have a close friend who was the boss of one of the largest construction companies in Europe and he said always look at the quality and size of the skirting boards as that will tell you everything you need to know about a property! Our skirting boards are impressive! Another friend who works in carpentry, said the doors are of the highest quality you can get! All the kitchen and bathroom fittings are also very good quality. The other properties we looked at didn't even get close to this property.

How important are storage, underfloor heating and access to a garden to you?
We have never had underfloor heating before, but we like it very much. Access to a garden was important to both of us, but particularly Sally. It is just the right size. The storage is amazing actually. We nearly bought a property three years ago, but the storage was poor. We haven't even managed to fill the wardrobes and storage yet, which is saying something when I think of all Sally's clothes!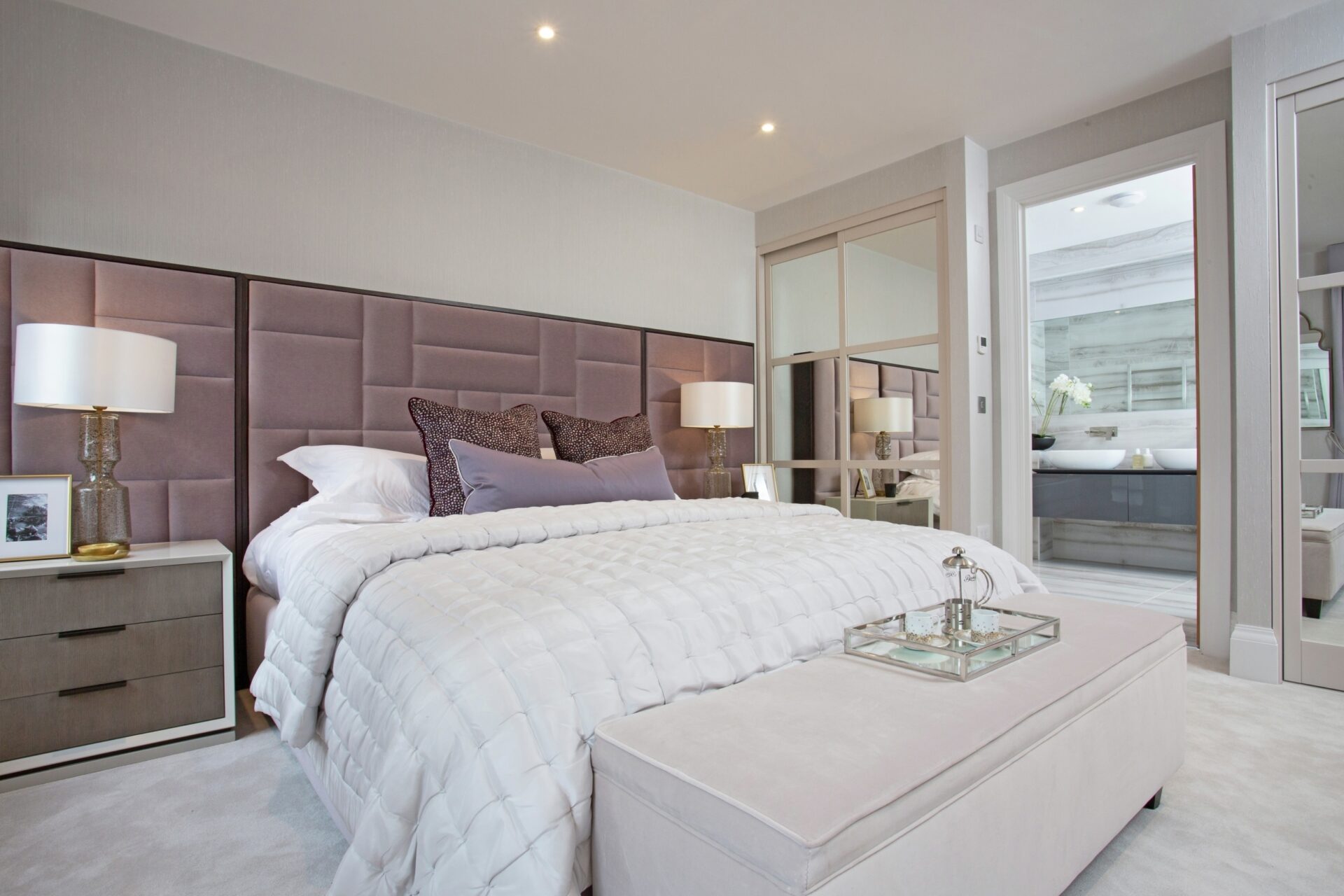 Wintersbrooke Master Bedroom
How was your experience with Kebbell in terms of the process of buying and the staff onsite?
Buying a new build and being the first ones in was a unique experience. I have heard unflattering descriptions of developers, but I have a lot of business experience and was an investor in 27 residential properties in the past. I know how it works. Kebbell was better than any of the 27 property teams I worked with in the past! They were exceptional and I can't praise them highly enough. My friend in construction said he heard that Kebbell treats their employees as a family and they are very good to deal with and that everything would be to the highest quality, which is exactly our experience.
There is always something not quite right when you buy a new build, so snagging is important but any minor snagging we asked for was dealt with at impressive speed. They never argued about minor changes and instead were always efficient, quick to respond, helpful and very polite.

What is your top tip when moving during the pandemic?
Bear in mind that things are going to take a lot longer as there is such a backlog at the moment. You need to be patient. I have always avoided stress, even at work, but I was stressed at times during the process because we had no control over it. Many people are having the same experience. At first, I thought my lawyers weren't working hard enough but that wasn't the case and Kebbell tried to make things as smooth as possible from their end. I would recommend Kebbell to anyone.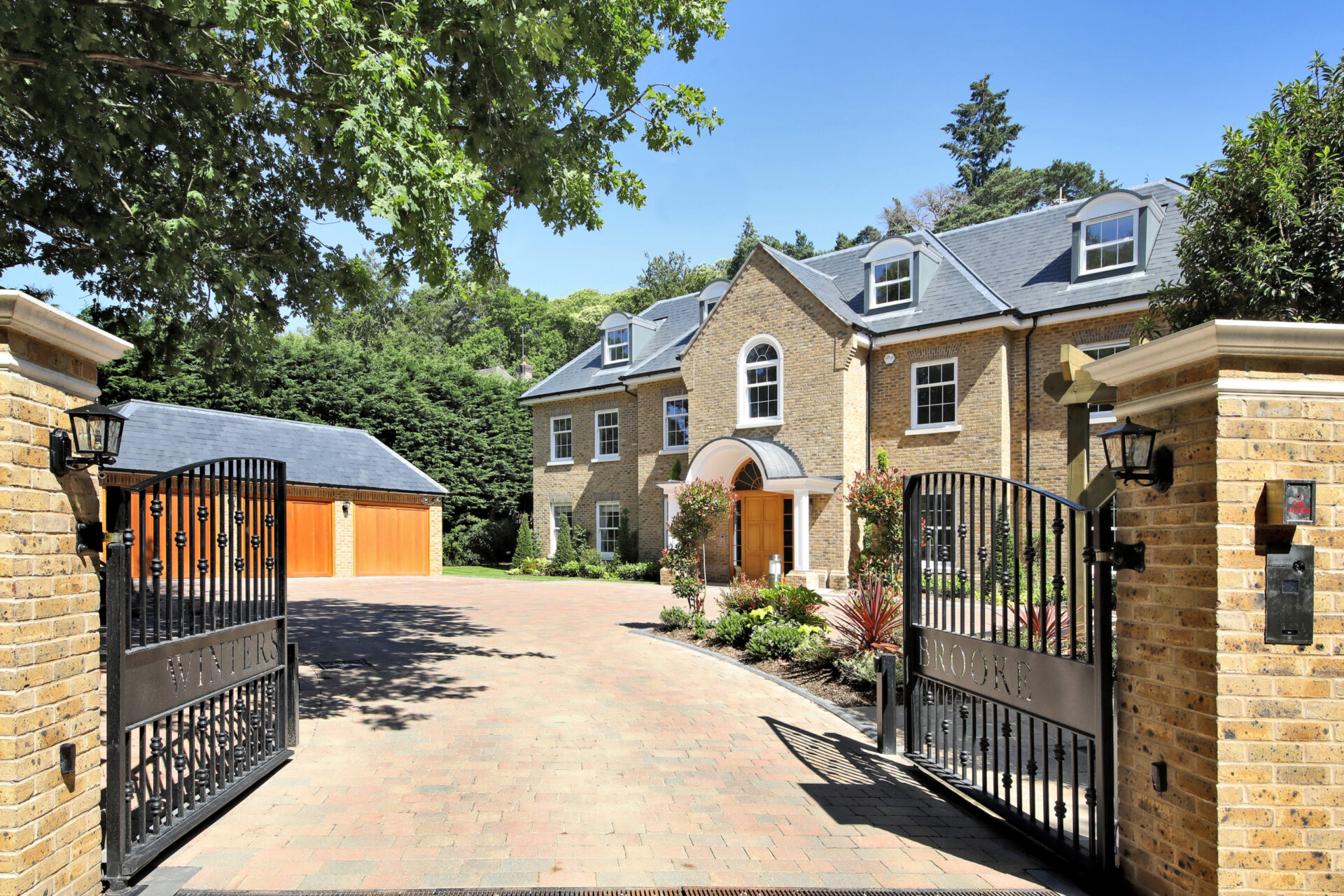 Wintersbrooke by Kebbell
Wintersbrooke comprises six exclusive, spacious two and three-bedroom apartments varying from 1,236 to 1,822 sq. ft. Set within a secluded, communal garden, the apartments are part of a gated community with terraces or balconies to all homes, located in a quiet, exclusive residential area near to the centre of Sunninghill, close to Ascot in Berkshire. Kebbell is a multi-award winning house builder and has recently been awarded a 5 star HBF (Home Builders Federation) rating which recognises excellent customer service standards.
The homes at Winterbrooke are now sold however Osborne House still has several new luxury apartments for sale in nearby Sunningdale. The show home is open Thursday to Monday from 10am to 5pm.