1. Decluttered, well organised rooms are relaxing and feel spacious and harmonious – all the elements of a luxe home. Customised furniture such as built-in floor to ceiling bookshelves or wardrobes will not just create storage but will beautify and simplify and add a modern aesthetic.
2. Statement furniture gives a room flair and the impression that an interior designer has worked their magic in your home. From a statement or designer chair, extraordinary artwork, a gorgeous standalone bath tub or unusual coat hooks, think unique and unusual to express yourself and get your guests talking!
Drawing Room at Aubury Place
3. Choose wall colours based on what you are trying to achieve. Opt for lighter colours or a plush shade of white if you want to make a room feel more spacious. For bigger rooms especially those with high ceilings, consider richer tones or appoint your room with a statement wall such as a deep blue or green. If you prefer neutral walls, colour can be added through soft furnishings, art and ornaments. Aim for consistency and quality and if you can, freshen up the paint work annually.
4. Choose a large rug to make the room feel bigger and more expensive. Choose an earthy colour and thick textured rugs that you want to snuggle your toes in but do think carefully about this if you have young children or pets! Alternatively, if your wall colour palette is muted, then invest in a chic rug as the hero of your look.
5. Upgrade tired bedlinen. Luxury is about addressing all of the senses so opt for the highest thread count that you can for a soft and silken touch that means you can't wait to go to bed each night. White bedlinen looks crisp and expensive and a gorgeous throw can be used to add colour and texture.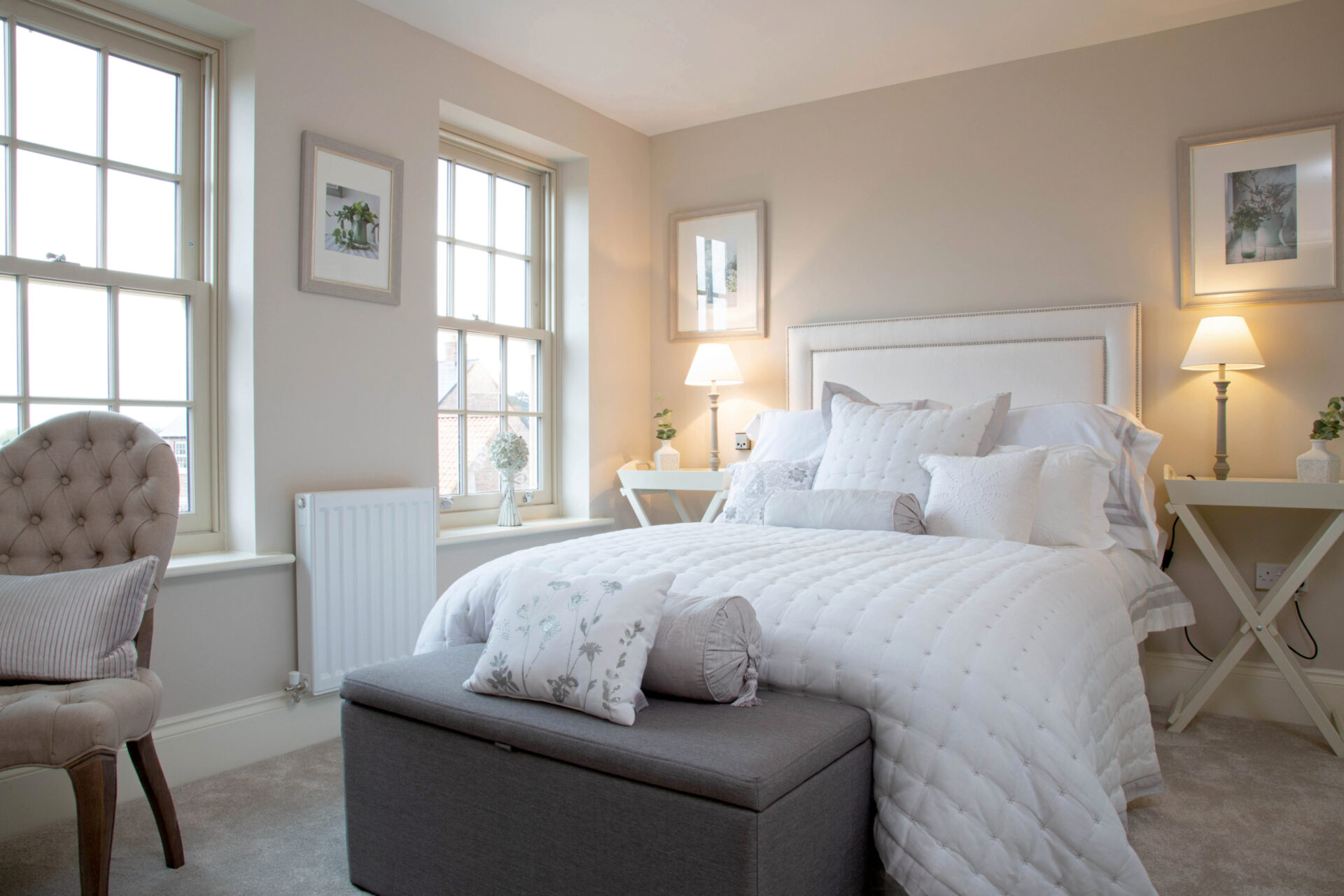 Bedroom at Harvest View
6. Make your bathroom a spa. Choose fluffy cotton bath, hand and face towels and a bathmat in a consistent colour scheme - neutrals always looks clean and fresh. Unclutter by investing in a cabinet to store all your bits and bobs if you don't already have built in space. Match your toothbrush holder and soap dishes and add thoughtful touches such as hand lotion in a pretty bottle.
7. Scented candles are a simple way to add a luxe element, not only for their aroma but because flickering candlelight is so alluring and calming.

8. Indoor plants add an exotic element to your home. Hanging plants from the ceiling can add height to a room and bringing a little bit of nature indoors not only looks good but could also improve the air quality in your home.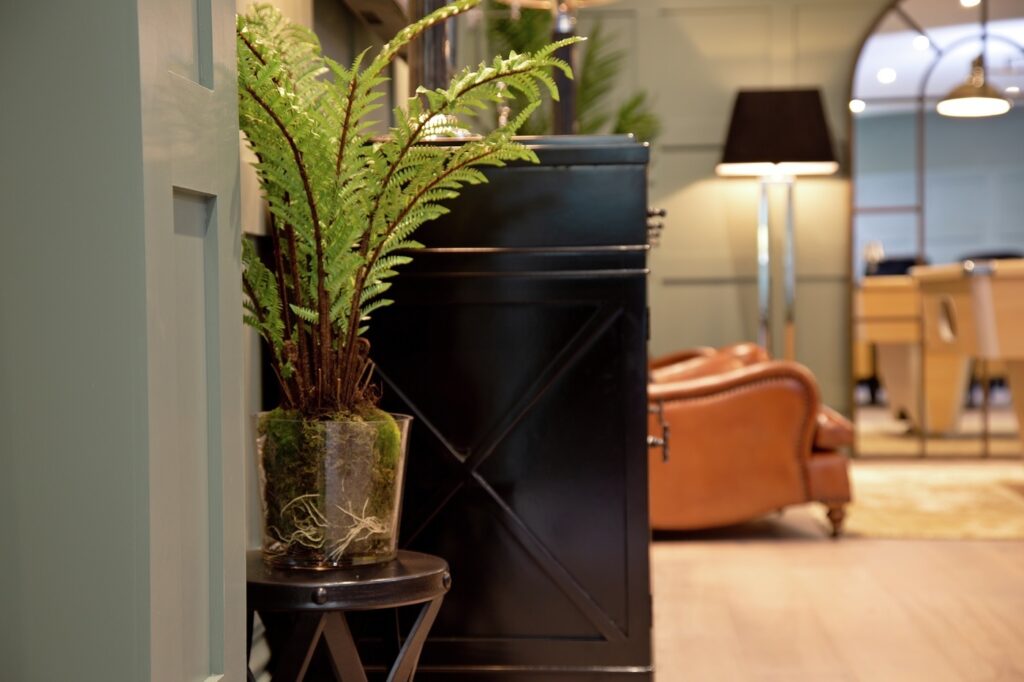 Games Room at Aubury Place
9. Climate control – get it right. Underfloor heating provides a consistent, comforting heat, and feels luxurious, especially in bathrooms after stepping out of the shower. By not having radiators all through the house, you can save space and make each room look more streamlined.
10. Move ornaments and decorative items around regularly. By changing ornaments, books on display, or even moving pictures, your home will feel refreshed for both you and your guests, adding points of interest and giving you a chance to show your creative flair.
11. Window dressing is important so natural light can flood through the room. Aim for sophisticated windows by installing floor length curtains in thick, textured materials like velvet. Make sure the windows are regularly cleaned and cut back any overgrown bushes outside to maximise the light coming in.
12. Lighting and lampshades will change the ambience of a room. If it suits your home change bright white light bulbs for those that offer a softer, more natural light. Choose lampstands that are sleek with elegant, modest lampshades that maximise light as well as become an elegant, focal point of a room.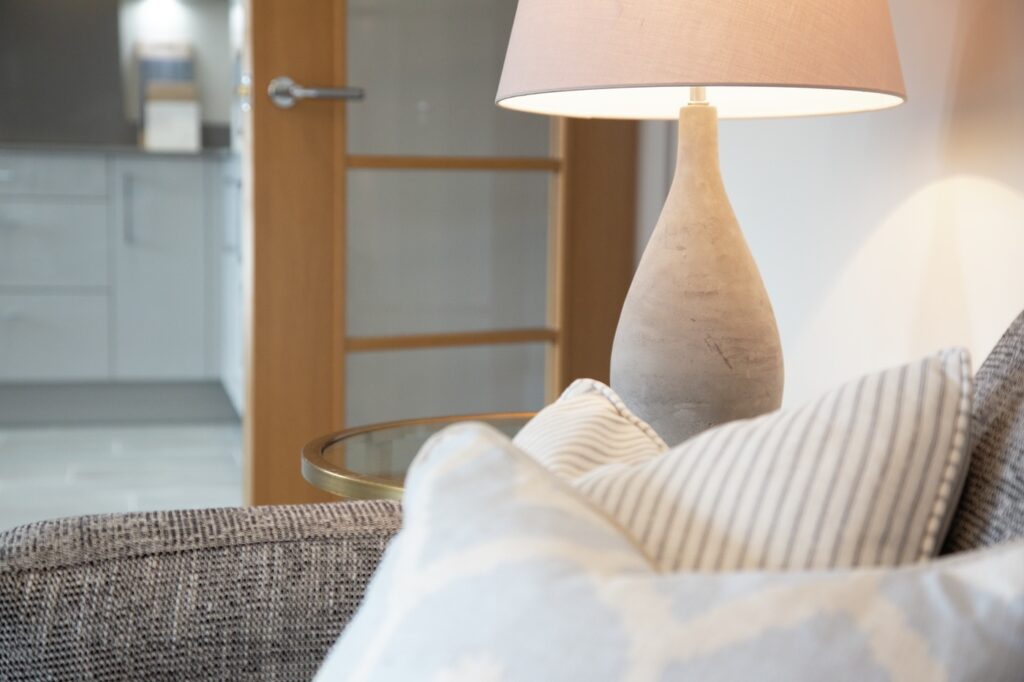 Living Room at Heatherfields
At Kebbell we always aim to create homes that look and feel luxe and reflect our ethos of "for how you live". To discover our property collections visit the new homes page.